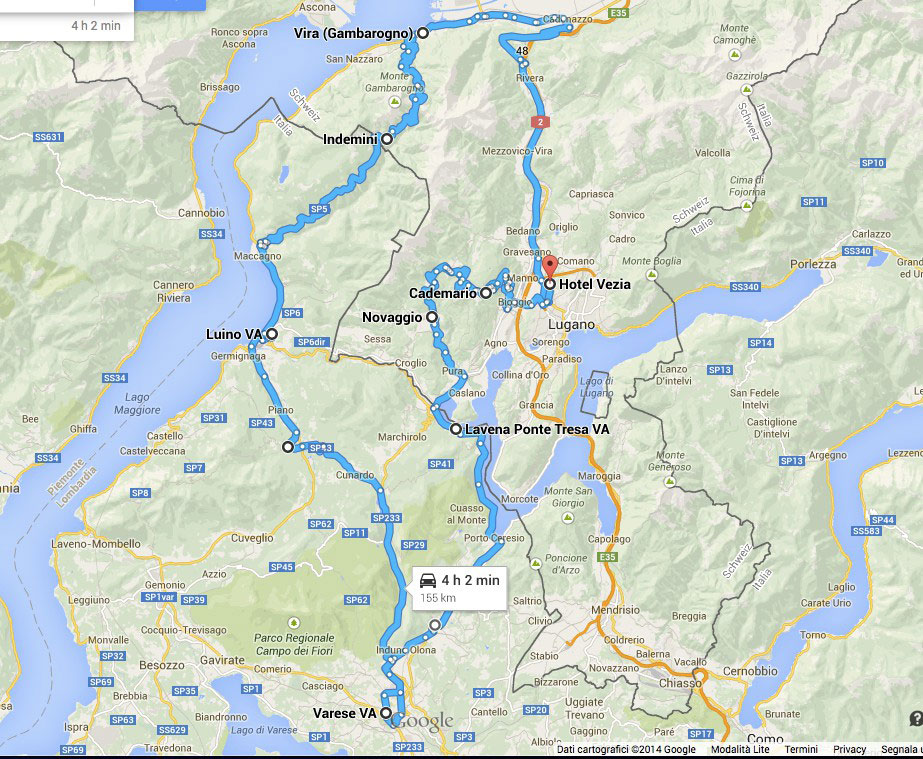 Tour Nr. 10. Tour length about 160 km.
Duration of the tour: about 4 hrs.
---
Tour Guide
Vezia
Cadenazzo
Vira
Indemini
La Forcora
Maccagno
Luino
Mesenzana
Santa Maria del Monte
Varese
Ponte Tresa
Molinazzo di Monteggio
Novaggio
Cademario
Bosco Luganese
Vezia
Specials:
Vira:

Mountain road with many switchbacks, narrow and steep.

Alpe Neggia:

Alpine restaurant, ideal to relax.

Indemini:

Charming old village, state border.

Detour to Lake Delio:

Interesting road with switchbacks and a beautiful view over Lake Maggiore.

Luino:

Market on wednesdays.

Mesenzana!!!

First go to Laveno then continue to Varese secondary road full of curves.

Campo dei Fiori:

Natural reserve.

Sacro Monte:

Mountain of Varese, beautiful view.

Malcantone:

A succession of climbs and descents, through a beautiful region with vineyards, palm trees and chestnut woods.

Cademario:

Amazing view over Lake Lugano and the whole region.